In concluding that the overwhelming majority of the top promoted and top-selling medications that have been rated for efficacy have little to no therapeutic benefit, a recent study published by the Canadian Medical Association Journal (CMAJ) highlights the absolutely essential role of whistleblowers in exposing the illegal methods used by pharmaceutical companies to market these products. By revealing the pervasive lack of efficacy of these drugs, the study's findings shed light on why pharmaceutical companies are often motivated to use kickbacks or off-label marketing to incentivize practitioners and pharmacies to recommend their products. And because illegal marketing scams ordinarily are detected only by insiders, the study illustrates the critical role played by whistleblowers in protecting government health programs and patients from these ineffective medications and the adverse side effects that accompany many of them.
Joel Lexchin, MSc MD, researcher and author of this study, analyzed the therapeutic ratings of the top-promoted and top-revenue drugs in Canada, and found that over 90% of the most-promoted drugs for which therapeutic ratings were available (a group of 42 drugs) have little or no therapeutic benefit, while over 75% of the top-revenue drugs (a group of 40 drugs) have little to therapeutic value.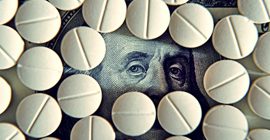 To determine the therapeutic value of a drug, Dr. Lexchin combined therapeutic value ratings from the Patented Medicine Prices Review Board (PMPRB) and Prescrire International, which are based on factors such as drug efficacy, adverse reactions, and convenience. Dr. Lexchin found that pharmaceutical companies in 2015 spent a startling $563 million promoting these and other drugs in Canada alone—and often marketed them without including crucial safety information.   The drugs in the drug samples that were deemed by PMPRB or Prescrire to have "little or no therapeutic value" include such household names as the arthritis drugs Celebrex, Enbrel and Humira, the pain medication Lyrica and the anti-psychotic drug Abilify.
The CMAJ study's results echo those of a 2017 study conducted by The BMJ, in which researchers Tyler Greenway and Joseph Ross, relying on Prescrire data on the U.S. pharmaceutical market, found that 81% of the top-promoted drugs, and 56% of the top-revenue drugs, were not "possibly helpful."  Together, these studies expose the multinational nature of the problem, and reveal the enormous risk inherent in physicians and pharmacies trusting promotional drug information to acquire knowledge about the efficacy and safety of medication therapies.
The False Claims Act's qui tam provision provides an effective way for whistleblowers to expose and remediate pharmaceutical companies' unlawful marketing activities. VS&G has successfully represented a number of whistleblowers alleging such misconduct, including in cases involving Pfizer, Johnson & Johnson, and Novartis. As stated by VSG partner Shelley R. Slade, "the qui tam remedy not only protects the federal fisc from overcharges, it also protects patients from unnecessary, ineffective and, in some cases, downright dangerous drug treatment."